About Us
About Us
Personal Property Appraisers Based Out of Phoenix, AZ
Company History
A-Z Appraisal & Estate Consultants has been providing quality service to its clients since 2006, when it was founded by Thomas Helms. Over the past 17 years, we have built a sterling reputation, reflected by our A+ BBB rating, and have a long list of satisfied customers, including some of the nation's top banks and law firms. Members of our team have a variety of certifications from the most respected appraisal organizations in the US, including the International Society of Appraisers (ISA), the American Society of Appraisers (ASA), and the Certified Appraisers Guild of America (CAGA).
For nearly twenty years, we have been providing our services to a wide range of customers and professionals in Arizona and beyond. We have experience working with auction houses, estate sales, liquidators, antique dealers, buyers, antique malls, trust departments, attorneys, banks, accountants/CPAs, fiduciaries, charities, and government officials. We have also been business owners, and have experience in the antique industry, mall and consignment shop ownership, liquidation, estate sales, trust departments, attorneys, retirement and assisted living centers, auctions, charities, and fiduciary work.
At A-Z Appraisal & Estate Consultants, our team of experienced employees have done it all – from providing representation to major charities, to writing for magazines and newspapers, to presenting informational seminars at conferences, hosting workshops for the Arizona Fiduciary conventions and speaking at the Arizona Watercolor Association. Our very own Tom Helms is a renowned speaker, having graced the stage at multiple conventions and even made appearances on popular TV shows such as "The Auctioneers" and "Baggage Battles."
Our well-rounded and continuing training, professional designations and education have given us an in-depth understanding of appraisals, estate concerns, the local market and the issues individuals are currently facing.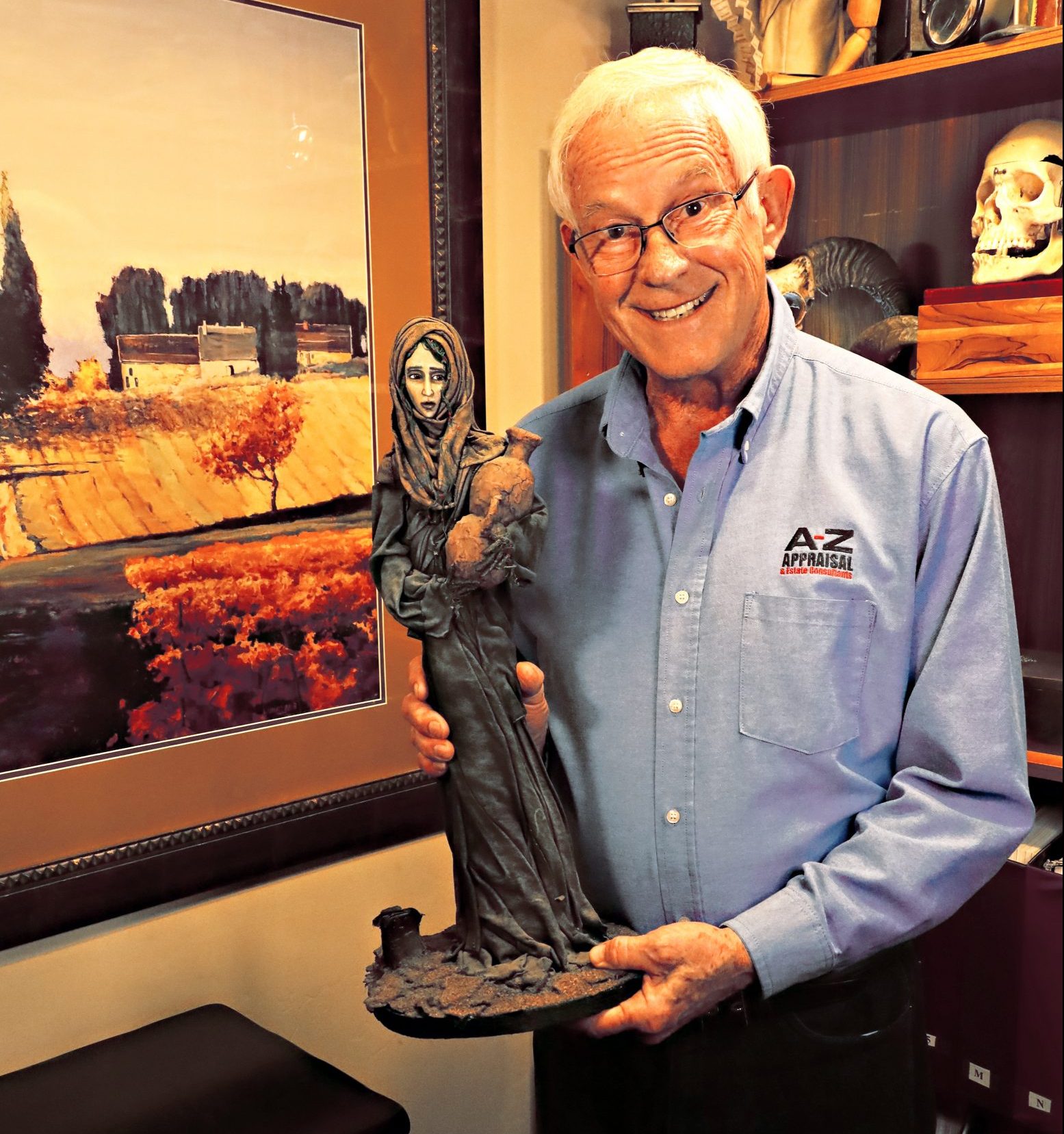 Thomas M. Helms, ISA CAPP
With over forty years of experience in the appraisal industry and a strong educational background in English and Language Arts, Thomas not only understands the intricacies of the appraisal process, but he knows how to communicate them to his clients in a manner that is both understandable and respectful. His expertise in assessing multiple items, ranging from antiques to wheelchairs, is a testament to his knowledge and experience.
Tom's dedication to his craft is further exemplified by his highest certification as a certified personal property appraiser with the International Society of Appraisers. He is the perfect example of why one should never give up on their dreams, regardless of their age. Tom is a great reminder that it is never too late to start a new career.
Tom's commitment to thinking outside the box and providing the best possible service for his clients is truly inspirational. His dedication to A-Z Appraisal & Estate Consultants LLC has been integral to the company's ongoing success and growth. We can only hope that Tom never retires, as his enthusiasm for the job is truly commendable. We have no doubt that he will continue to answer the phone with a smile, even from the grave!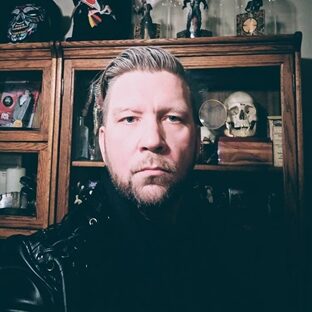 Oddities/Obscura and True Crime/Murderabilia
Jeff's unique perspective on the world of collectors adds an interesting layer to the A-Z Appraisal & Estate Consultants family. Growing up in flower shops and funeral parlors, Jeff found solace in these settings and the items contained within. He can relate to the reason why people may be interested in items that may be seen as "dark" or "strange," as these items may simply mean something special to that individual. Jeff has a deep understanding of why these types of collectors seek these items out; by having those items, they may find peace and balance in an otherwise chaotic life.
Jeff has appraised a number of unique items, such as a hand-drawn confession belonging to the notorious serial killer Jeffrey Dahmer, an oil painting by Charles Manson, artifacts with connections to the infamous drug kingpin Pablo Escobar, "haunted" artworks crafted by a Las Vegas hitman, and a dental mold used during the trial of Ted Bundy.
The number of people who collect oddities, obscura, and curiosities continues to increase. Human skeletons and skulls, strange taxidermy pieces, vampire hunting kits, shrunken heads, mummified creatures, and wet and dry specimens like those found in science labs, are becoming more and more commonplace in appraisals. With Jeff's assistance, we can (and would be delighted) to appraise even your most unusual possessions.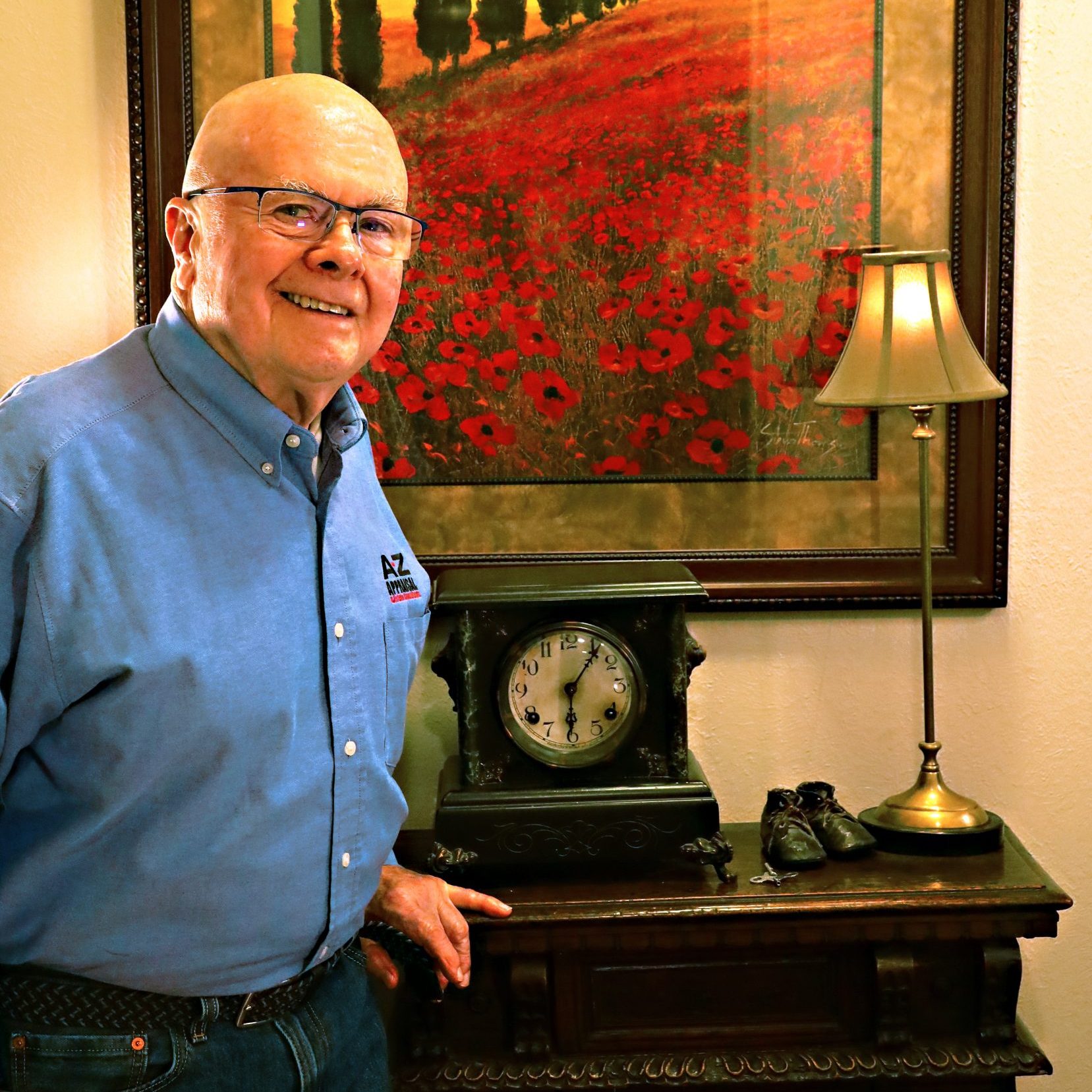 Antiques, Furnishings, and Decorative Arts
Ron made a successful transition into the appraisal industry in 2006, after spending 17 years in secondary market retail sales and antique mall management. His passion for history and antiques, such as art, silver, and furnishings, made this career change a natural fit. Using his knowledge and expertise, he is able to help people make informed decisions regarding their personal and family property; he is able to give them accurate, reliable evaluations instead of hype and supposition.
In 1947, at the age of almost two, Ron moved to Phoenix with his family and proudly considers himself an Arizona native. His first career began with a humble start as a dishwasher at Upton's Candy & Coffee Shop across from Good Samaritan Hospital (Banner University). There, he was able to get his start in the food industry and learn from experienced individuals who made everything from scratch and built their clientele through honest business practices. Ron was fortunate to have amazing mentors throughout his life that shared their knowledge with him, allowing him to build a long and successful 18-year career as a restaurant owner. He loves working with people and strives for quality and honesty in his work as a personal property appraiser.
Kei "Key" Josephson, ISA and ASA Member
Kei Josephson, pronounced as "Key," is the Automotive and Vehicle Appraisal Specialist for A-Z Appraisal. He brings over 35 years of acquired knowledge, hands-on experience, educational training, and teaching in the automotive aftermarket, dealership, wholesale, parts, racecar building, car show, and racing experience to the company.
Since the age of 13, Kei has had a passionate interest in the automotive industry. His enthusiasm for the automotive field has only grown over time, allowing him to work in the aftermarket parts industry, become a manufacturer representative, and even own his own high-performance parts store and racecar building shop. Additionally, he has attended and given trade show seminars and technical training seminars.
Kei is an enthusiastic racer, building and racing an SCCA Corvette in local, west coast, and national SCCA Solo/Autocross events, which allows him to continue growing his knowledge and passion for automobiles. He is a graduate of Washington State University and a member of various automotive associations and clubs, including the Specialty Equipment Manufacture Association (SEMA), Performance and Racing Industry Association (PRI), a founding member of the National Corvette Museum (NCM), Good Guys Car Club, and the National Model A Club.